Welcome
We are a friendly hockey club based at the Cow Roast, just between Berkhamsted and Tring.We run 5 mens teams and 4 ladies teams, covering all ages and abilities.
For the stars of the future, we have a packed youth section, split into various age ranges, training at various times.
The men play in the Eastern Counties league and the ladies play in the 5 Counties league.
These leagues comprise clubs spread across Hertfordshire and nearby parts of the neighbouring counties.
---
LATEST NEWS
MEN'S 1s INTO LAST EIGHT OF THE VASE
The
Men's 1s made the tricky away trip to Leicester on Sunday and won the 3rd Round game of the EH Vase
. The 2-1 victory featured stunning goals from Pete Allam and Will Goodwyn.
The draw for the quarter finals has been made and we have the pleasure of hosting Ashby HC from the East Midland league. The game will take place on Sunday 26th February.
Click here for details on the England Hockey website
.
PHOTOGRAPHY AWARDS
This week has seen an influx of some great and some not so great team pictures being supplied. That has given us the opportunity for a little award ceremony. Starting with...
THE WINNER OF BEST PICTURE OF A CAPTAIN SEEN STRANGLING A TEDDY BEAR WITH A HOCKEY STICK goes to...
Sarah Brydon, for her treatment of "Biscuit Bear".
I suspect Sarah may be reported to the Royal Society for the Prevention of Cruelty to Teddie Bears.
THE WINNER OF THE ANIMAL WELFARE IN SPORT PHOTOGRAPHY AWARD (not a very competitive category) goes to...
The Ladies 4s. Woof.
On the pitch,
the Ladies 4's Won 2-1 against Letchworth
with goals from Vickers & player of the match Megan Savage. Pictured, a few of the younger members of the team along with a couple of foxes.
AND THE WINNER OF THE LEAST NUMBER OF PLAYERS IN A 'TEAM' PHOTO goes to...
The Men's 3s for this appalling contribution!
Just one person in the correct gear and only 5 of you in the shot.
At least your on pitch performances are improving.
This week they had a 3-1 win over Harpenden
. Following last weeks draw, this weeks win sees the 3s move another step to league safety. Another win next week and you'll be out of the relegation zone.
AND THE WINNER OF THE MOST PROLIFIC SUPPLIER OF TEAM PHOTOS AWARD GOES TO...
The Men's 5s, who are simply relentless with their pictures. Thanks to Joels mum for getting involved (please see her Golf Charity event further down)
On the pitch
the Men's 5s won 6-2 against letchworth 5s
. Goals from Paul Whitby x4, Andy Prentice x1 and Simon Barron x1.
The Men's 5s are having a great season this year. Almost playing proper hockey on occasions!
AND THE WINNER OF THE BEST SPORTING PICTURE OF ALL goes to...
The Under 10s for their brilliant celebration picture - everyone is off the ground!
On the pitch the U10 girls manage to win all their games in their tournament hosted by Harpenden today.
Click here for the Tournament report
The Men's 4's (Pictured) move up to 3rd in the table with a 3-0 win against St Albans.
Goals from Duncan Hodges, Toby Payton & Louis Hanwell (who scored his 1st goal for the club!). Man of the match was Toby Payton.
Well done to the Men's 4s for this near faultless team photo. The one glaring error however is leaving the date emprinted on shot and it's time Paul Krafft had a club shirt!!! Get yourself down to Berko Sports!
The
Ladies 2s drew 1-1 against West Herts
in a very tight game.
Kate Goodwyn was the goal scorer. Player of the Match was shared between Molly Jarvis and Mat Kimble.
The one defeat of the weekend fell to the Men's 2s against Hertford.
They could be accused of spending too much time setting up the following shot just so they could use the line...
Men's 2s Pumped Up for their Game
Nice work. Trouble is. By being the only team to have lost, you've end up positioned at the bottom of this section.
---
CHARITY GOLF DAY - Please support...
Some of you will have met young Joel Withey - currently steaming down the right wing in the Men's 5s.
His mum, Cindy works for Connect Dacorum and they are having their very first Golf Day which will be held on
Friday 19th May 2017
at the prestigious
Harpenden Common Golf Club

.
The aim of the day is to have fun whilst raising money for two local charities - Age UK Dacorum and Community Action Dacorum (Connect Dacorum).
Age UK Dacorum is an independent charity working across Dacorum to improve the quality of life for older people. They offer a wide range of services, including social clubs, a handyperson service, dementia services and support for carers. Most of their funding comes from fundraising activities, individual donations, grants, trusts and contracts with Hertfordshire County Council and Dacorum Borough Council.
Connect Dacorum is a project of Community Action Dacorum and creates, facilitates and brokers business engagement and support to benefit the local community as well as connecting all our members to create meaningful partnerships. We work closely with the voluntary, community and public sectors to understand the needs of the community and create innovative ways that business and their employees can get involved in. This relates both to social, economic and environmental issues.
GOLF DAY DETAILS
Registration will be from
12.30pm
where you can have bacon butties and tea/coffee before you play.  We will be having a Shotgun Start at
2pm
which means that all players will be starting and finishing around the same time, and means that we are able to dine together at the end of the day (when prizes are awarded and raffles drawn, etc).
The cost per team is £300, which includes tea/coffee and a bacon roll at the start, the round of golf and a delicious 2 course carvery meal in the evening.  Non players are welcome to attend the dinner, for only £22.50.
If you would like to enter a team and/or sponsor a hole, or maybe know of someone else who would enjoy the day, the
booking form is attached
and a
poster for your staff room / intranet
.  
---
RESULTS
Saturday 26th November
Ladies 1 v Shefford and Sandy -
WON 3-2
Ladies 2 v West Herts -
DREW 1-1
Ladies 3 v Potters Bar -
WON 3-0
Ladies 4 v Letchworth -
WON 2-1
Men's 1 v Hertford -
WON 4-2
Men's 2 v Hertford -
Lost 2-1
Men's 3 v Harpenden -
WON 3-1
Men's 4 v St Albans -
WON 3-0
Men's 5 v Letchworth -
WON 6-2
Sunday 27th November - 3rd Round of the EH Vase
Men's 1s v Leicester Westleigh -
WON 2-1
CLICK HERE
to view the full Men's league tables
CLICK HERE
to view the full Ladies league tables  
---
INTERCLUB LEAGUE TABLE - HALFWAY MARK
At the halfway stage of the season the Men's 1s have opened up a 3 point lead against the Ladies 1s. The arrows constitute movement since the last league table was published earlier in the season. Ladies 3s and 4s have had a good last few weeks.
Please note the Ladies 3s and Men's 5s have a game in hand and can move up a place if they win the spare games.

The totals column read as follows for all the statos...
53 Wins, 13 Draws, 31 loses, 236 goals for, 172 goals against.  
---
ANNOUNCEMENTS
Up and Coming Social Events...
Next Quiz Night - THIS

COMING FRIDAY

!
2nd December
END OF YEAR CHRISTMAS CLUB SOCIAL
SATURDAY 17th DECEMBER
More information to follow.
PUT THE DATE IN YOUR DIARY
---
THE BERKO FANTASY HOCKEY LEAGUE
MENS LEAGUE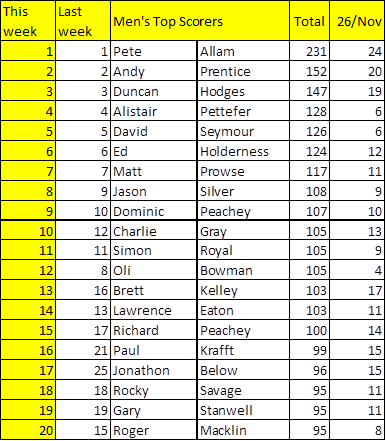 Pete 'no jugs' Allam maintains his hatrick form with another one. He is just ahead of Andy Prentice. Actually the top 7 places have not changed at all.
Duncan Hodges hobbled about the pitch in central defence but scored from a short to claim 19 points. Both Jon Below and Paul Krafft have now made it into the top 20.
Pete Allam is not the only one scoring well as Paul Whitby scoops 29 points with 4 goals and MotM for the M5s.
From next week there will be some additional points to be scored. Umpiring will be recognized as a key and important part of our match days with points awarded to those officiating. Also points will be awarded to those to come along to the team teas. The official rules will be published shortly.
LADIES LEAGUE
Emma Potts retains her lead of the Fantasy league although it is now reduced to only 3 points.
Leanne Keatley is the highest climber this week up from 19th to 9th
Megan Savage scores 20 points with a goal from defence  
---
---
CLUB TRAINING Continues - Monday 28th November
Tring Sports Centre -
7pm to 9pm
PREMIER TRAINING -

Wednesday 30th November
RAF HALTON -
8.45pm to 10.15pm
For 1st and 2nd squad players and others by invitation.
INDOOR HOCKEY -

Thursday 1st December
Ashlyns School -
9pm to 10pm
LEAGUE MATCHES -

Saturday 3rd December
Men's 1 v Harpenden (Away)
1.30pm
Woollam Playing Fields
Men's 2 v Harpenden (HOME)
12pm
Meadowcroft
Men's 3 v Stevenage (HOME)
1.30pm
Meadowcroft
Men's 4 v Stevenage (Away)
11.30am
John Henry Newman Leisure Centre
Men's 5 v Southgate Tankards (HOME)
10.30am
RAF Halton
Ladies 1 v Welwyn (Away)
11.30am
Herts University (de Havilland)
Ladies 2 v Broxbourne (HOME)
12.15pm
Tring School
Ladies 3 v Rickmansworth (Away)
11.00am
Clement Danes School
Ladies 4 v Royston (HOME)
10.45am
RAF Halton
JUNIOR TRAINING -

Sunday 4th December
Berkhamsted School
10.00-11.00am
- Tigers Training
11.00-12.00pm
- Academy Training
CLUB TRAINING Continues -

Monday 5th December
Tring Sports Centre -
7pm to 9pm
PREMIER TRAINING -

Wednesday 7th December
RAF HALTON -
8.45pm to 10.15pm
For 1st and 2nd squad players and others by invitation.
INDOOR HOCKEY -

Thursday 8th December
Ashlyns School -
9pm to 10pm
---

VACANCY - LEVEL 2 COACH

We are looking for a Level 2 Coach. A player/coach would be preferable, to aid the Mens 1's in 2S after promotion this year. Premier training on a Wednesday evening and Club training on a Monday as well as other opportunities.

Potential further paid coaching role with Berkhamsted School as well.
If interested, please contact Roger Macklin  
---
TRAINING

Training runs on Mondays at Tring Astro from 19:00 - 21:00.

Premier club training runs on Wednesdays at RAF Halton Astro from 20:45 - 22:15.

  THE CLUB NEWSLETTER

The weekly newsletter will give you all the information you need to see about the club. Have a read through the archive or feel free to join our mailing list. CLICK HERE

INDOOR HOCKEY at Ashlyns School

We are now fortunate to have access to indoor hockey facilities at Ashlyns School, in their new sports hall.

Indoor hockey offers the best fitness workout you can possibly do and is great for honing your hockey skills as well.

Every Thursday, 21:00-22:00.

Contact Ben Moorhouse for more info.

BERKO TIGERS

Hockey players start out as Tigers before progressing through the youth section towards adult hockey.

See the Youth Section for details of the training programme and a registration form.


Any questions about the Tigers please contact Jo Fisher

 
THE BERKO HOCKEY YOUTUBE CHANNEL

 

HIRE OUR CLUBHOUSE!

Our club house is set in 20 acres of land and the perfect setting for all kinds of parties and events.
---
ADDRESS: BHHHC, Lockhart Field, Cow Roast, Hertfordshire, HP23 5RF